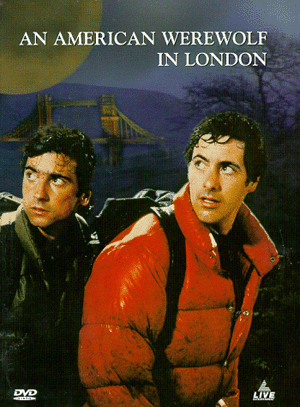 1981 Dir: John Landis With: David Naughton, Jenny Agutter, Frank Oz, Griffin Dunne.
Two American backpackers, David and Jack, find themselves on the Yorkshire Moors, and take a respite in the Slaughtered Lamb inn where the not too friendly, dart-playing obsessed ('You made me miss') locals tell them to keep off the moors and to 'Beware the moon.'
Of course after being given this valuable piece of advice, what do our two young American friends do? They stray onto the moors, and before you can say, 'Look out bloody great wolf!' they are attacked by a werewolf.
Jack perishes in the attack, but David wakes in hospital to find himself being nursed back to health by the gorgeous Jenny Agutter.
His dead friend Jack returns to haunt him as one of the living dead and keeps appearing in various stages of decomposition. David continues to be looked after by Miss Agutter, and even gets to stay at her flat - and what's more even gets to bed the charming nurse.
One day, however, while she's out, David transforms into a wolf.
The next morning he wakes up in the zoo and can't remember a thing. This is the start of his lycanthropic activity, and as each victim is slaughtered they return to haunt him, together with Jack and are more than a bit miffed that he's killed them. They try to persuade him to kill himself to end the slaughter.
After a failed attempt to get himself arrested, during which he approaches a policeman and declares - amongst other things - that the Queen of England is a man, he ends up causing havoc at Piccadilly Circus, as he transforms into a huge wolf, decapitating someone in the process.
Brilliant pioneering special effects and makeup, and lashings (or should that be "slashings"?) of black humour, make this (on a par with The Howling) one of the best modern werewolf flicks.