Welcome to Dreadful Things, a repository of horror movie reviews, from the classics of Universal and Hammer, to the modern day blood and gore shockers ...
Launched: 12/9/03
Have a Dreadful
Christmas!
Coming soon over the ghoultide festivities here at Dreadful Things, Black Christmas - our dreadful treat for Christmas!
Vampires in New York studying philosophy? Whatever next! Kathryn is addicted to blood (it happens - some people drugs, some people drink, some nicotine, others ... blood!) and she'll do anything to get her fix: inject, bite, even listen to Christopher Walken overact!
Chihiro is storing something in her freezers and it isn't her yoghurt and milk! Find out just what this Japanese beauty keeps in her coolest places, and why she likes to get a bit handy with heavy objects!
They can send a shiver down your spine, some are abducted by large hairy beasts, others save you from armies of deadly aliens, quite a few can scream like their life depends on it - and very often it does!
Weird goings-on within a German ballet school. Not least the garish decor and the loud rattling music which seems to follow you around everywhere! You'll never don a tutu and ballet shoes and go down to your local dance school again!
Man meets woman by way of an audition of 30 women, man dates woman. So far, so normal. But weird things are afoot! And just what is tied up in that large sack in her flat? (Some people keep the strangest pets!)
People watch video, after they've viewed it they receive a strange phone call and seven days later die mysteriously. Television journalist investigates but makes the mistake of watchng it herself (oops!) Not only that but she shows it to her ex-husband (now there's one way to get back at your ex!)
Pianist witnesses an attack on a psychic, pianist tries to stop killer, fails, and ends up on the top of the killer's hit list! Pianist turns detective and tries to stop the killer before the killer gets him!
Strange goings on in a Glasgow high rise and mysterious bangings lead the occupants of one of its flats to believe they have a poltergeist - either that or the plumbing needs fixing!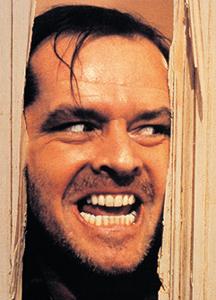 Main Features
The Films - an A-Z listing of all the films contained on this site, enter this vault of horror at your own risk, and be warned, some of the inclusions are not for the faint hearted or those easily shocked by blood, gore, violence, nudity and bad language - and other good stuff!
Visit these dreadful things
here
Top Ten Scariest - the ten films which I consider to be the scariest movies ever to be unleashed on to an ususpecting cinema-going public.
Ah, I remember the first time I saw her pretty head spin round, and witnessed her vomit green puke everywhere - it was love at first sight!
Discover the shocking truth
here
Personal Favourites - personal demons, some of which have haunted me for some time now, they tempt me back for more and more, and then - once they've got me in their clutches - they keep me there, horrified, but yet strangely compelled.
Dare to visit them yourself
here

View My Guestbook
Sign My Guestbook

Lost Souls Magazine

The magazine of horror and the supernatural

Visit here