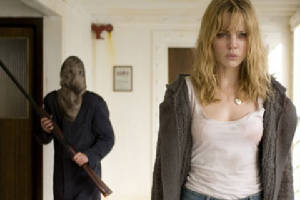 Welcome to Dreadful Things - a repository of horror movie reviews, from the classics of Universal and Hammer, to the modern day blood and gore shockers ...
Launched: 12/9/03
Main Features
Reviews - an A-Z listing of all the films contained on this site, enter this vault of horror at your own risk, and be warned, some of the inclusions are not for the faint hearted or those easily shocked by blood, gore, violence, nudity and bad language - and other good stuff!
Visit these dreadful things
here
Top Ten Scariest - the ten films which I consider to be the scariest movies ever to be unleashed on to an ususpecting cinema-going public.
Ah, I remember the first time I saw her pretty head spin round, and witnessed her vomit green puke everywhere - it was love at first sight!
Discover the shocking truth
here
Personal Favourites - personal demons, some of which have haunted me for some time now, they tempt me back for more and more, and then - once they've got me in their clutches - they keep me there, horrified, but yet strangely compelled.
Dare to visit them yourself
here
Scream Queens -
The bleeding ladies of horror cinema past and present are worshipped and adored here (and there's pics!!)
here
The Dreadful Chat Room
- Why not drop into the Dreadful Chat Room, if you dare risk it. Discus horror films, the actors, the actresses, the directors, and this site, with other Dreadful visitors. It's waiting for you!
here