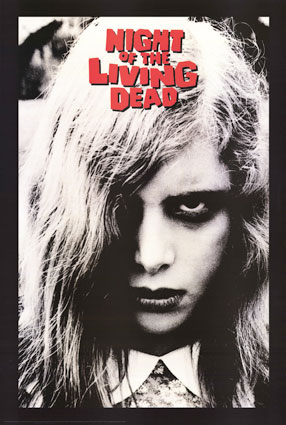 1968 Dir: George A.Romero. With: Judith ODea, Duane Jones, Karl Hardman, Marilyn Eastman.
The original and still the best, although some may argue Dawn of the Dead (the sequel - set in an abandoned shopping mall) is just as good. The documentary feel of this film makes for an even more realistic feel.- It's as if your watching something that actually happened, only the black and white footage takes you away from reality.
Zombie films have been with us since Bela Lugosi in White Zombie, but this was the one that put them well and truly on the horror movie map.
It begins in a cemetery - where better place to start - a brother and sister are placing flowers on their father's grave, there is a man in the cemetery and the brother begins to tease his sister, 'They're coming to get you Barbara!'
The man attacks the brother and kills him, Barbara escapes and drives to a farmhouse, where she and a few other "unaffected" people hole up, besieged by zombies, who have surrounded the house.
At one point in the gory proceedings, a young girl stabs her mother to death with a trowel and then goes on to eat her. That's Matricide, violence, murder, cannibalism, and a spot of gardening thrown in for good measure - all in one scene!
There are also scenes of the zombies eating human flesh, which is brilliantly gruesome!
If you've not seen this film yet, go and rent it, buy it, whatever, and you,ll have sleepless nights for ages!