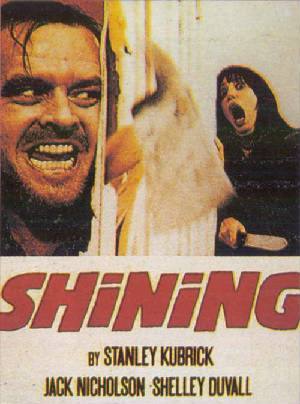 1980 Dir: Stanley Kubrick. With: Jack Nicholson, Shelley Duvall, Scatman Crothers, Danny Lloyd.
One of Jack Nicholson's finest moments!
This film has atmosphere in bucket-loads (and in one scene - bucket loads of blood!)
It's based on Stephen King's rather hefty novel, and it depicts one man's journey beyond sanity. To say Jack's character loses the plot in this movie is an understatement of the millennium!
Holed up in The Overlook hotel during a blizzard, Jack (Jack Nicholson), who has landed the job as caretaker for the place, his wife, Wendy (Shelley Duvall), and their young son, Danny (Danny Lloyd) who has a weird imaginary friend, who speaks through the child by him bending his finger and talking in a strange voice.
As the weeks go by, the snow grows heavier, and Jack begins to go crazy. It also becomes apparent that the hotel is haunted.
During the course of the film we are treated to: a river of blood emerging from an elevator, the ghosts of two young twin girls (who only Danny can see), Nicholson putting a door through with an axe while reciting nursery rhymes about little pigs, and a rotting corpse of an old woman taking a bath!
Nicholson's performance is very menacing, Duvall is good as the frantic wife becoming increasing distressed at her husband's weird and erratic behaviour, Scatman Crothers is also good, as the cook of the hotel, who tells Danny at the beginning of the movie that he has the "shine," (a kind of psychic ability.)
Stanley Kubrick directs with his distinctive slow-paced style, and there's an eerie atmosphere throughout.