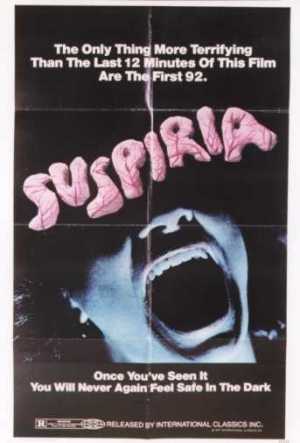 1977 Dir: Dario Argento With: Jessica Harper, Stefania Casini, Joan Bennett, Alida Valli
Witches are at work in a ballet school in Germany, "evil ballet instructors"? Never thought of ballet as being "evil" - until I watched this movie. I bet they know some "mean" dance steps!
American student Suzy Banyon (Jessica Harper) arrives at said exclusive dance academy in Germany, during a thunderstorm. After a walk through an airport which seems weird at every corner, thanks to Argento's style, she takes a taxi journey and soon arrives at the school.
Here she comes into contact with a girl, Pat Hingle (Suzanna Javicoli) who flees the building and runs into the surrounding woods, muttering something which Suzy doesn't quite hear properly. Suzy is refused entry to the building at the intercom and so is forced to spend the night in town
Later we see Pat return to the school and go to the room of another girl, who she tells that she has been expelled, and that she must leave. She also tells her friend that she knows a secret, but doesn't say what it is. When the girl leaves the room, Pat peers out of the window, through which she sees what appears to be a pair of large cat's eyes. Suddenly a hand grabs her and smashes her face against the pane and then stabs her repeatedly. Next we see her crashing through a glass roof, hanging from a rope by the neck with blood running down her. The shards of glass from the roof also kills her friend below, who gets a large piece embedded in her face.
When Suzy begins her dancing studies at the school, she meets the other students and her instructors, led by Madame Blanc (Joan Bennett) and Miss Tanner (Alida Valli) With the strange death of the girl she saw and her friend, curiosity gets the better of her and she soon begins to investigate the place. She befriends another student, Sara (Stefania Casini)
From the very start things begin to happen. On her first class she feels faint and gets a nosebleed. And that night she discovers maggots in her hair while combing it (and I thought dandruff was bad enough!) Then a rain of maggots descends on all the girls, the result, they discover, of rotting food in the attic. They have this problem fumigated, but it'll take more than fumigators to stop the presence, whatever it is, from continuing its work.
A blind pianist, Daniel (Flavio Bucci), is savagely attacked by his own dog after it bites Madame Blanc's nephew. Obviously the dog is being controlled by whatever evil forces are at work in the school.
One night Sara tries to escape someone trying to kill her. While locked in the bathroom with whoever it is outside the door trying to get in, she climbs through a window, only to find herself caught, like a fly in a web, in large coils of sharp wire (which is just what you're likely to find lying around in a ballet school - er ... ?)
Suzy eventually discovers a secret passageway that leads to a sealed off part of the academy where she finds the deadly secret of the place.
Are they a mad murderous bunch of maggot farmers? Are they so intent in producing dancing excellence at this school that they'll stop at nothing: murder, training dogs to attack their owners, raining maggots down on everyone, just to protect the secrets of their success? Or is it just that all that ballet gets to you after a while and turns you into a schizoid psychopath? You'll need to watch the movie to discover exactly what is going on..
All through there is the loud music clattering and wailing, almost a cacophony (I haven't heard so much noise since the neighbours had their last row!) until it becomes almost unbearable - adding to the eeriness of this film.
There is no other horror film quite like it, either in visual style, atmosphere, or in the frightening "raucous" soundtrack! Right up to the very end it never lets up.